Water On – and In – Terrestrial Planets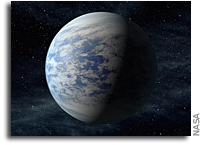 Earth has a unique surface character among Solar System worlds. Not only does it harbor liquid water, but also large continents.
An exoplanet with a similar appearance would remind us of home, but it is not obvious whether such a planet is more likely to bear life than an entirely ocean-covered waterworld—after all, surface liquid water defines the canonical habitable zone. In this proceeding, I argue that 1) Earth's bimodal surface character is critical to its long-term climate stability and hence is a signpost of habitability, and 2) we will be able to constrain the surface character of terrestrial exoplanets with next-generation space missions.
Nicolas B. Cowan (McGill University)
(Submitted on 13 Nov 2015)
Comments: 4 pages, 1 figure; to appear in the proceedings of the Comparative Climates of Terrestrial Planets II conference
Subjects: Earth and Planetary Astrophysics (astro-ph.EP)
Cite as: arXiv:1511.04444 [astro-ph.EP] (or arXiv:1511.04444v1 [astro-ph.EP] for this version)
Submission history
From: Nicolas Cowan
[v1] Fri, 13 Nov 2015 21:00:02 GMT (339kb,D)
http://arxiv.org/abs/1511.04444