Astrobiologist Dale Andersen Antarctic Status Report 9 November 2018: Better Weather – For Now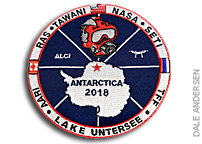 "The weather improved today with sunshine and light winds greeting us this morning, a nice change of pace from the constant pounding we have had the last few days."
"Late last night we had gusts hitting the 75-80 knot range again (or perhaps more) so it was pretty noisy until early this morning.
Today we replaced two of the Mountain Hardwear Stronghold tents and reinforced them quite a bit so they should be ok, or they just get flattened. Hope to get the two Weatherports up tomorrow if we are not getting pounded by winds again. Then we have one more stronghold to put up for the kitchen tent and we will be set. For the moment we are using the sea-container for our cooking tent (and sleeping the last few days). I still need to see if my diving compressor survive – the wind rolled its box (with tanks inside) about 10-15 m before dumping it.
We now have many more snow petrels in the area, quite a few arrived last night along with their nemesis, skuas. It's nice to have the company!
Cheers, Dale"