Astrobiologist Dale Andersen Antarctic Status Report 20 November 2018: Weather Report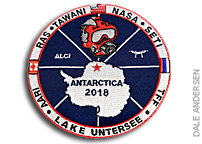 "Enclosed is a copy of our latest general weather forecast – we use the Novo forecast since it is only about 100 km from us."
"It is not bad here right now, skies are broken with high and mid-level clouds, and winds gusting 10-15 knots at times. But as you can see, the weather pattern is shifting again so Thursday and Friday (Sat?) we will likely see relatively high winds and perhaps some snow. I will keep you posted.
Dale"
From: "Novo Runway"
Sent: Tue, 20 Nov 2018 13:37:17 +0000
Subject: genfcst
Issued: 20/11/2018, 11:30 UTC
Hello from Cape Town! Meteorological situation: On TUESDAY, 20th of Nov. at noon, Gale(1) 960 hPa at 56S 13W, moving quickly south-eastward, deepening, its strong wind field getting influence on Neumayer, partly Sanae/Troll on WEDNESDAY/THURSDAY. Another gale(2) 954 hPa at 64S 32W, moving slowly southeastward, slightly weakening, its fronts producing strong wind(nil-flight conditions) between Neumayer and Sanae on TUESDAY and WEDNESDAY. Ridge of Antarctic high 994 at 78S 6E, has spread towards Novo, shifting east and weakening, having smart impact on central/eastern parts of DML only on TUESDAY. ∙ On THURSDAY, 22 of Nov., Gale(1) 962 hPa at 66S 1W, gale (2) 961 hPa at 66S 18W, both together moving east-northeast, its fronts influencing especially coastal areas of DML, also the strong wind field will dominate flight conditions at nearly all DML-stations on THURSDAY and FRIDAY. 4-day Forecasts: (wind-forecasts respecting TRUE NORTH, TN !) Novo Station/Novo Runway/Maitri: TODAY upcoming overcast by thicker clouds and risk for light snow, easterly winds 25-30kt. TONIGHT mostly overcast by lower clouds and risk for light snow, easterly winds 25-30kt. WED overcast, at times light snow, longer sunny spells in the afternoon, easterly winds 25-30kt in the morning, 30-35kt/light blowing snow in the late afternoon. THU sunshine, easterly winds 30-35G45kt/blowing snow. FRI upcoming mid-level clouds, stormy weather, white out and light snowfall from noon, winds up to 40G55kt/heavy blowing snow.
Best regards,
Novo Runway 70°49'31"S 11°37'41"E"