Astrobiologist Dale Andersen Antarctic Status Report 30 October 2018: Preparing For The Traverse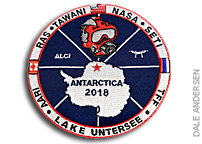 We arrived at the Novolazarevskaya ice runway Thursday evening via the ALCI chartered IL-76 about 8pm without incident, it is very nice to be back here again.
We are early enough to enjoy a bit of darkness for several hours too, with a beautiful sunset off to the south of the station. We are staying at the ice-runway and over the coming days we will prepare for the traverse to Untersee. Unfortunately, a storm arrived about 10 hrs after we landed and we have been in whiteout conditions for the last two days with visibility less than 50 meters.
The small blizzard blew out on Sunday so yesterday was our first real day of work. After digging out the entrance (several hours) we pulled out our skidoos from storage, attached the sleds and drove them down to Schirmacher Oasis and back to make sure they were working ok. Today we will begin organizing our cargo and gear for the traverse to Untersee – hope to be there in 2-3 days depending on how things go with our local logistics and weather. But so far, so good!