Astrobiologist Dale Andersen Antarctic Status Report 24 October 2018: Waiting In Cape Town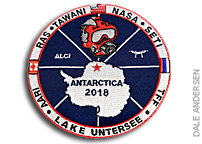 We arrived in Cape Town last Thursday night, and the team spent the weekend adjusting to the new time zone, dealing with a few last minute errands and attending a few meetings.
About the same time we arrived in Cape Town, a storm was hitting Novolzarevskaya Station with high winds and blowing snow. Because of snow accumulation on the ice-runway additional time was required over the weekend to prepare runway for the arrival of the first summer flight into Queen Maud Land.
We had hoped to be on the ice Tuesday, but the weather forecast indicated high winds Tuesday and Wednesday, so our flight's departure has been delayed until Thursday morning. Hopefully tomorrow we will be on our way south!
Untersee 2018 Field Team
1. Dale T. Andersen, Ph.D. – Carl Sagan Center, SETI Institute, Mountain View, CA.
2. Mikhail Andreev, Ph.D. – Komarov Botanical Institute, St. Petersburg, Russia
3. Miles Ecclestone, M.Sc. – Trent University, Peterborough, Ontario (Ret.)
4. Nicole Wagner, Ph.D. candidate – Georgetown, University, Washington, DC
5. Mia Vanderwilt, Senior Undergraduate – Georgetown, University, Washington, DC
6. Cameron Roy, M.Sc. – McGill University, Montreal, Canada