Ignoring "Cosmos": Incompetence at NASA's Astrobiology Institute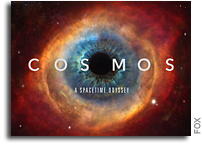 After more than two months on national televison NASA's Astrobiology Insitute has yet to utter a single word about "Cosmos". This is baffling. It is also simply unacceptable.
NASA's Astrobiology Institute has over 879,000 followers on its Twitter account @AstrobiologyNAI. Not once in the months that "Cosmos" has been on air has it ever made mention of the show – despite the fac that it amounted to a free multi-week advertisement for Astrobiology. If you go to the offocial NASA NAI website you will see that it totally ignored Cosmos too. Yet @NASA and other Twitter and social media accounts openly featured links of direct relevance to the show. Even the President chimed in on the opening episode.
The NASA Astrobiology Institute has made a colossal mistake by not taking advantage of this teaching moment for millions on national television – one wherein all of the things that NASA seeks to study under the banner of "astrobiology" have been thoroughly explained in terms almost anyone can grasp. Indeed, this amounts to utter incompetence on the part of the entire leadership and staff at the NASA Astrobiology Institute – and those at NASA Headquarters who manage Astrobiology as a whole. They simply do not care if they are doing their job and explaining their research to the rest of us who pay the bills.
Why Is NASA's Astrobiology Program STILL Ignoring "Cosmos"?, earier post