NASA Statement on Lawsuit Filed About Mars Rock "Pinnacle Island"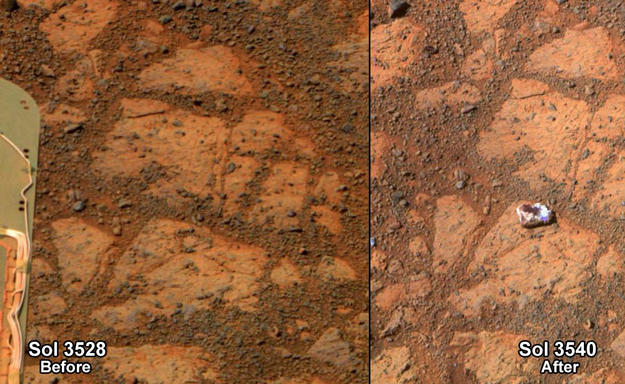 The following statement has been issued by NASA: "This is an ongoing legal matter and we are limited in what we can discuss about the filing."
However, NASA has been publicly sharing our ongoing research into the rock dubbed "Pinnacle Island" since we originally released the images from the Mars Exploration Rover Opportunity earlier this month.
"The rock, which NASA is studying to better understand its chemical composition, also was widely discussed during a Jan. 22 NASA Television news conference. As we do with all our scientific research missions, NASA will continue to discuss any new data regarding the rock and other images and information as new data becomes available."
FYI, the image is linked here: http://www.nasa.gov/jpl/mer/rock-pinnacle-island-pia17761/
The full news conference is on YouTube, the exact location the rock was discussed in the news conference is at this link: http://youtu.be/CpS919WF–8?t=18m37s ).
Image: This before-and-after pair of images of the same patch of ground in front of NASA's Mars Exploration Rover Opportunity 13 days apart documents the arrival of a bright rock onto the scene. The rover had completed a short drive just before taking the second image, and one of its wheels likely knocked the rock — dubbed "Pinnacle Island" — to this position. The rock is about the size of a doughnut.
The images are from Opportunity's panoramic camera (Pancam). The one on the left is from 3,528th Martian day, or sol, of the rover's work on Mars (Dec. 26, 2013). The one on the right, with the newly arrived rock, is from Sol 3540 (Jan. 8, 2014). Much of the rock is bright-toned, nearly white. A portion is deep red in color. Pinnacle Island may have been flipped upside down when a wheel dislodged it, providing an unusual circumstance for examining the underside of a Martian rock.
The site is on "Murray Ridge," a section of the rim of Endeavour Crater where Opportunity is working on north-facing slopes during the rover's sixth Martian winter. Larger image